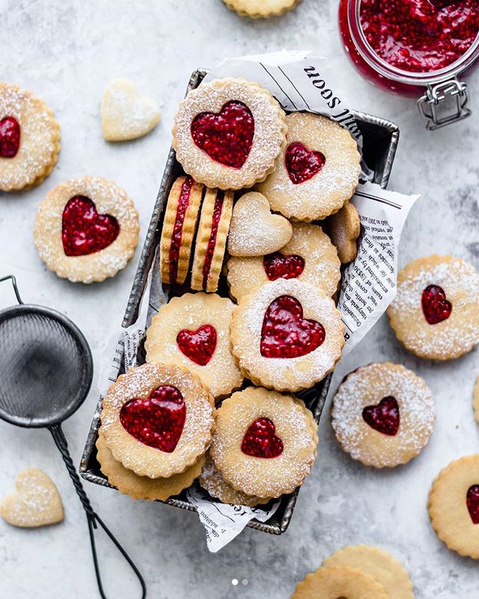 Almond Linzer Cookies with Raspberry Chia Jam
Happy Valentine's Day!!! Almond Linzer Cookies with Raspberry Chia Jam can be made with EarthNutri's Organic Gluten Free All Purpose Flour. Recipe: from @nm_meiyee.
220g vegan butter or coconut oil cold & cut into small cube
3 tbsp white chia seeds @suncorefoods
2 tbsp lemon juice or water
Put the raspberries and lemon juice into a saucepan over a medium heat. Mash the raspberries as they begin to heat up. When the raspberries have broken down to a saucy consistency. Remove from the heat and allow the mixture to cool a little before adding the chia seeds. Transfer the jam to a jar and allow it to cool completely. Once the jam has reached room temperature transfer it to the fridge for an hour to set.
Preheat oven to 175c. In a food processor combine the flour, almond meal, salt. Then slowly the vegan butter/coconut oil, pulse until you get a coarse meal. Then slowly add the maple syrup, pulse until a dough ball forms. Flatten dough on disk. Roll out one of the dough. Cut out the dough using a cookie cutter. Use a smaller heart cutter to cut a window out of half of cookies. Bake in a preheated oven for approximately 12-14 minutes. Let cookies cool completely. Take the regular shaped cookies and place jam in the middle of each cookie. Cover with the dusted cut out cookies on top and enjoy!